The North End Farmers Market will run Friday, August 6th from 10-2 in front of It's Only Natural Market, 575 Main St.
I can't believe it's already August! Watermelon is finally in season, and we're beginning to see pears and apples. We have the same great line-up of farmers returning to the market this Friday, as well as Starlight Gardens, which sells heirloom tomatoes, O'Rourke's, Linda's Sweet Memories, and Crystal Pistritto's hula hoops. The Cardinals Nest will sell delicious homemade pizza for lunch, and Vecchitto's truck will be back.
Looking for interesting ways to prepare your vegetable purchases? 'Recipes for Health' from the New York Times, featuring a lot of the local produce we have at the market, is a great resource. This week's recipe, Zucchini "Pasta," is from this collection.
NEW: North End Farmers Market tote bags are now available! They are
printed on ECOBAGS® 10 oz. Recycled Canvas Tote with double stitched seams and stress points. Super-sized to hold all your market goodies, this bag folds easily to fit into smaller spaces and will last for years. You can get a bag for $10 at the market, or donate $15 to NEAT and we'll mail you one. (You can always give more to support the market. Your contribution is tax deductible.) Visit neatmiddletown.org for more info and to order your bag!
Also, if you haven't already, please join us on facebook! "Like" the North End Farmers' Market and use this as a forum to discuss recipe ideas and share photos.
The restaurant of the week is CARDINALS NEST and guest vendors are STARLIGHT GARDENS, CRYSTAL'S HULA HOOPS and VECCHITTOS ITALIAN ICE.
Click Here for the recipe of the week: Zucchini "pasta"
Meet Your Vendor
Each week we profile a vendor from the market. This week, it's Tom from Ceccarelli Farm.
Farmers' markets are all about knowing where your food comes from. Whereas supermarkets shelves are stocked with produce that was likely picked from industrial-scale farms up to two weeks in advance, farmers' markets are much more intimate. The produce is local and fresher, and you are free to talk with the person who grew your food. Here we feature an interview with a vendor from the North End Farmers' Market, seeking to promote connections between buyers and sellers.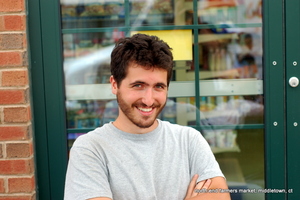 Name: Tom Dilella
Farm: Ceccarelli Farms
Location: Old Post Rd, Northford, CT
Tom's favorite product: Can't choose
Customers' favorite: Corn
Why are local farms important?
"The reason local farms are important is because it's just not natural for food to come from far away. Food that is closer is more nutritional, and it allows you to better connect with your surroundings. People easily forget where their food come from. Lastly local food is better, fresher, and something all the people from the community can share."
How is this growing season?
"The weather has been real erratic--heavy rains, hot periods. But the farm is doing really well even with the unpredictable weather. It is what it is. If it's always hot no greens, rainy no corns. The weather has been extreme."
What do you like about the North End Farmer's Market?
"You get in touch with different people and vendors, great coming out and having fun, and being in a new location."