The Spring 2013 session of the Youth Gamelan at Wesleyan University begins Saturday, January 26. The gamelan is an orchestra of metal gongs and xylophones from Indonesia, and Wesleyan has a fine set of these beautiful instruments.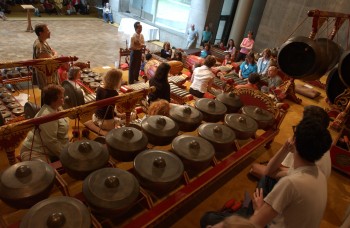 The Youth Gamelan is open to all children ages 7 and up, with no prior music experience necessary. Rehearsals are held on Saturday mornings from 10-11am in the World Music Hall, Center for the Arts, Wesleyan University, located on Wyllys Avenue (off of High Street). Parents are welcome to stay and watch rehearsals. We will conclude the session with a performance on Thursday, May 9 at 7pm, together with Wesleyan student ensembles.
New members are welcome at this time, though space is limited and advance registration is recommended. There is a registration fee of $30, made payable to Wesleyan University. You may register at the first rehearsal, or with the University Box Office in Usdan Campus Center, tel. 860-685-3355, email: boxoffice@wesleyan.edu.
For more info visit our website:
http://youthgamelan.blogs.wesleyan.edu
. The Wesleyan Youth Gamelan is directed by Joseph Getter, under the guidance of professors I.M. Harjito and Sumarsam. The group was founded in 2002 and is sponsored by the Center for the Arts at Wesleyan, and is a past recipient of support from the Middletown Commission on the Arts.