South Green/Union Park
looks very pleasant in this picture but too empty for a Tuesday night. This week (7/30), the Park sound fill with people to enjoy the sounds of the
Trevor Davis Jazz Quintet
with guest vocalist
Carolyn Reeves
. Mr. Davis is well-known around this area not only as a successful commercial real estate person but also as a patron of the arts. He's also a fine jazz drummer who plays in various spots around town. For this night, he's joined by the fine bassist
Mike Asetta
as well as
Steve Donovan
(keyboards) and
John Smayda
(saxophones) plus Ms. Reeves, a local singer/songwriter who's going to moving to the Left Coast fairly soon. During the intermission,
Tre Davis
, the drummer's son, will sing and play piano. Bring your lawn chairs, a libation or 2 and a sweater because the long-range forecast calls for clear skies and cooler temps. The event is, as always, free and open to the public. For more information, go to
arts2go.org
, the on-line presence of the
Middletown Commission on the Arts
, sponsor of the weekly
Summer Sounds Concert
series.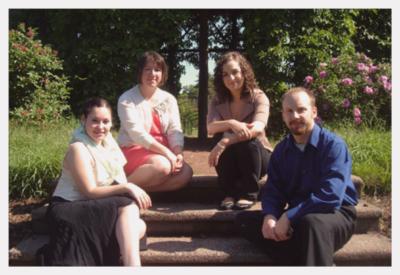 The weather also looks promising for the 4th concert in the Wednesday
Wadsworth Mansion Concert Series
, held on the spacious back lawn of the the
Long Hill Estate
, 421 Wadsworth Street. The concert, originally scheduled to be the 5th and final show of the summer, is actually a "first" for the series -
Quartetto Vivo
is the first chamber music ensemble to play outdoors in the series, now in its 11th season. Not sure of the program for this Wednesday but a quick look at their website -
www.quartettovivo.com
- displays a repertoire that ranges from Bach to Haydn to Zappa and plenty of stops in-between. The Estate grounds open at 5:30 p.m. and the music starts at 6:30. For more information about the Music at the Mansion series, go to
www.wadsworthmansion.com
.
Thursday evening August 1,
The Russell Library
, 123 Broad Street, presents
Indra Rios-Moore
, who performs under her first name in concert at 7 p.m. in
The Hubbard Room
. Indra, born in New York City to a Puerto Rican mother and African American mother, attended Smith College where she studied, among other subjects, classical vocal music. She now lives in Denmark with her husband, saxophonist
Benjamin Traerup
. When they first moved back to Traerup's homeland, they joined forces with bassist
Thomas Sejthen
. The trio's debut CD was recorded and issued shortly after the relocation - the album features vocals and fiddle from Indra's friend
Rani Arbo
(who now lives in Middletown.) The new recording, "
In Between
", came out in 2012 and won the Danish Jazz Award for Vocal Jazz Album of the Year. Because of the spare instrumentation, Indra's voice really stands out - she is a passionate singer who really inhabits each song, enunciating the lyrics yet imbuing the words with honest emotion. To find out more about the group and the music, go to
indra.dk
. The library website is
russelllibrary.org
.
And, if that's not enough,
Indra
will also appear at the
Sunken Garden Poetry
series at the
Hill-Stead Museum
in Farmington on Wednesday August 7 opening for
Billy Collins
. For more information, go to
sunkengardenpoetry.org
.
All 3 of the concerts in Middletown are free and open to the public so you should really take advantage of this great music.