Wesleyan student Noah Kahan '19 released a proposal for
Connect Middletown,
which seeks to create new transit options for Middletown residents and Wesleyan students to increase accessibility in the region via public transportation. Followed is a section of his proposal, read the
full report here
.
Currently, Middletown is nearly inaccessible by public transportation. Prospective and current students, families, and employees need to drive to and from campus. Uber, Lyft, and Zipcar are unaffordable options in many cases. With
Connect Middletown
, we seek to change this.
Connect Middletown
seeks to revitalize the M-Link service, a route serviced by Middletown Area Transit (MAT). This proposal strives to enhance Middletown's connection to the wider region by keeping local M-Link service in place and launching
M-Link Express
, a modified route that will provide a faster ride to Meriden Rail Station, where in May 2018, a new commuter rail service,
CTRail Hartford Line
, will pass through going between New Haven, CT, Hartford, CT, and Springfield, MA. If the prospect of M-Link Express succeeds, Middletown will be closer than ever for the millions of people who use the Northeast Corridor rail network. The M-Link Express will allow residents, students, and visitors to more easily access all that the region has to offer in an affordable and sustainable way. The M-Link Express route will connect:
Middlesex Community College (MxCC) in Middletown
Main Street Downtown Bus Terminal
Wesleyan University (Fisk Hall)
Middletown Plaza (Price Chopper, Staples, Starbucks, etc)
(and at certain times) MxCC@Platt High School
Recent public transportation projects in Connecticut, like CTFastrak, have provided an affordable means of transportation in a state that heavily relies on car ownership. Middletown's public transportation needs to be improved by allowing greater access to the region though principles of transportation equity. Transit equity represents an affordable, time efficient transit system that is environmentally, socially and economically sustainable.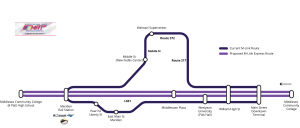 Why M-Link Express?
Public Transit that is Competitive with Driving & Increased Connection between Middletown and the Region
Running an M-Link Express route that stops at Middlesex Community College, Main Street, Wesleyan University, Meriden Rail Station, and MxCC@Platt campus via Route 66 to I-691 will take around 32 minutes without traffic. From Wesleyan University, the M-Link Express trip to Meriden Station will take around 15 min via Route 66 to I-691. This proposal for an M-Link Express to launch in conjunction with expanded rail service in Meriden will make the trip time to New Haven Union Station from Middlesex Community College take approximately 54 minutes with public transit (27 minute bus, 27 minute train), compared to the average 45 minute drive to New Haven. The M-Link Express will also make it faster and more affordable to travel to all the towns and cities that are served by the commuter rail line. From Wesleyan University (Fisk Hall), the bus ride will take 15 minutes. From Middlesex the trip will take just under 30min.
Affordable, Reliable, Sustainable, and Accessible Transportation for the Wesleyan and Middletown Communities
If this proposal is implemented, traveling to and from Middletown to commute and visit places in the region will be possible without the expense and hassle of car ownership, which is inaccessible to elderly residents, many students and low-income individuals. In addition, the frequent use of rideshare (Uber, Lyft) and taxi services are unaffordable and unsustainable for many students and residents in the region.
Transfer to CTRail Hartford Line
CTRail Hartford Line is a new commuter rail line going from New Haven, CT to Springfield, MA, making a stop in Meriden. This service will run in conjunction with Amtrak service with 6 to 17 trips per day between New Haven and Hartford, with 12 of those trips continuing onto Springfield. According to the Connecticut Department of Transportation, CTRail will run every 45 minutes during the morning and evening peak hours, and approximately every 60-90 minutes during off-peak hours. Weekday service will begin at 6am and run as late as 11pm.
For more information, or if you'd like to get involved please contact Noah at nkahan@wesleyan.edu or
follow Connect Middletown on Facebook
.