Music at The Mansion
.
As you see by the picture, the back lawn of
The Wadsworth Mansion
is lush and green. For the next 4 Wednesdays (7/01, 08, 15, and 22 - in case of rain, 7/29 is a makeup date), the Lawn will covered by blankets and chairs, filled with people listening to music that, in its own ways, covers a lot of territory.
Avenue Groove
. The sextet, in existence since 2007, plays rhythm 'n' blues, funk, soul music and more in a show that makes one want to dance.
US Coast Guard Band
, 50 persons strong, return to The Mansion. Based at the Coast Guard Academy in New London, the Band was formed in 1925 and, in its 90-year existence, has performed throughout the United States and around the world. Many of the musicians who perform go on to play in symphony orchestras and big bands. The ensemble has recorded a number of CDs, the latest released in 2014 and featuring the movie music and more of John Williams.
Goza
also makes a return appearance in the Series, this time on July 15. Led by guitarist
David Giardina
, the sextet plays a repertoire from Central and South America, from Spain and, on occasion - if you ask - will play spirited Gypsy Swing. They also add Latin rhythms to songs by Stevie Wonder, Paul McCartney and others.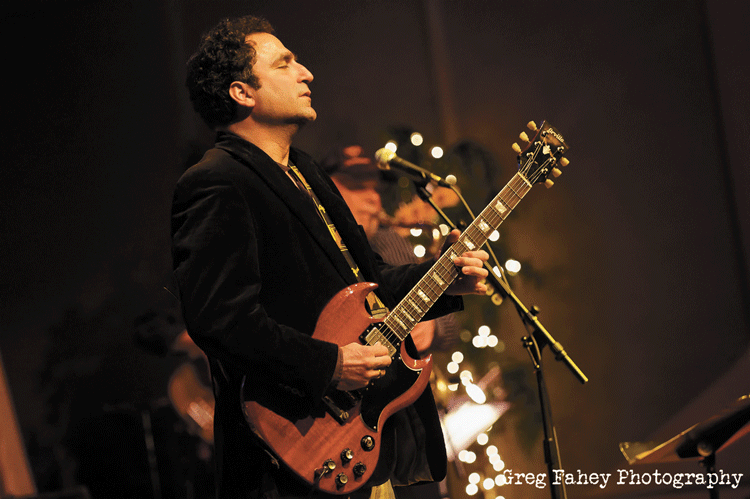 Greg Fahey photo
The final show in the series also features an artist returning to town.
Jeff Pitchell & Texas Flood
with the Jeffettes is one to the area's premier blues bands. The guitarist is getting rave reviews around the country for his spirited playing and singing with a repertoire that pays tribute to blues greats such as Stevie Ray Vaughan and Otis Rush. Pitchell is also getting notice for his songwriting abilities. Texas Flood is as solid a band as you'll hear anywhere and The Jeffettes add soulful harmonies to the proceedings.
The Wadsworth grounds open at 5:30 p.m. for the who wish to bring picnic suppers and close 30 minutes after the last notes fade away. Parking is available at Snow School and in the lot at Mercy High School. These concerts are free and open to the public - The Friends will solicit donations at all shows save for the Coast Guard Band. For weather updates on the afternoon of the shows and more information, go to
www.wadsworthmansion.com/events.php
.