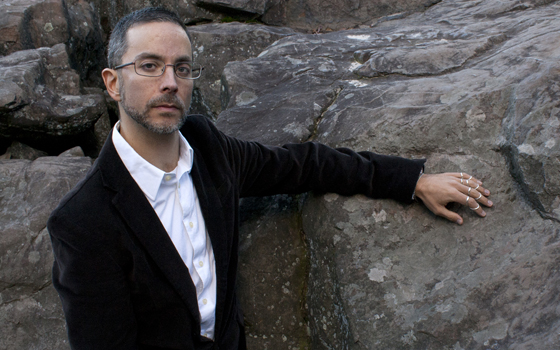 That's
Noah Baerman
in that "serious" pose on the left. That makes sense as he is serious about his music, about his teaching, and about the ability to reach people through music and have them lead positive lives. To that end, Mr. Baerman has started a program at
Russell Library
in Middletown he calls "
Jazz Up Close
" - it's a concert but the musicians talk to and with the audience, explaining what they are attempting to do with their music, why they do what they do and more. Playing jazz is more than playing the notes; it's about teamwork, about communication, and about creativity (and much more).
This Saturday at 2 p.m. (March 28), the 2015 season of "
Jazz Up Close
" commences with Mr. B (piano) leading at quartet with with bassist
Henry Lugo
, drummer
Willard Dyson
and special guest, guitarist
Freddie Bryant
(pictured left). Besides his busy solo career, Mr. Bryant has worked with the great vocalist Salif Keita, trumpeter Tom Harrell and the Mingus Big Band. He and drummer Dyson have worked together on a number of occasions as well as recording together on 2 of his 7 CDs. His latest, "
Dreamscapes: Solo, Duo & Trio
" (self-released), was issued in 2014 and features saxophonist Chris Potter and bassist Scott Colley. Mr. Bryant is equally versed in jazz, pop, and classical music and has a fluid style that swings, often with unabashed glee.
To find out more about the series, go to
www.russelllibrary.org
. To find out more about Freddie Bryant, go to
www.freddiebryant.com
. Check out all the good work of Noah B at
www.noahjazz.com
.